American Version
This version of the popular 'Caribbean Islands Cruising Guide' is for sailors coming from the USA or Canada and heading into the islands for a season or longer. All the routes are geared to Southbound Yachts
The American Caribbean Islands Cruising Guide details exactly the best and easiest route from Florida via the Bahamas, Turks & Caicos, Dominican Republic to the US Virgin Islands.
£5
'The gentle way of going to windward without stress!
The Caribbean is probably the biggest and best cruising ground in the world. Wonderful climate, beautiful islands, nice people and for the most part very inexpensive.
How to get there - how to get home- details of all the Island groups and anchorages. Pictures and chart details together with descriptions of the islands.
Pictures, charts, distances, links to marina's and faculties, weather and places to visit and what to see.......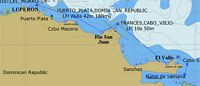 Chapters
1. Overview - Weather, Hurricanes, Security & Paperwork
2. Getting there from the USA
3. USA to Virgins the easy way (Florida to USVIs)
4. Getting there from Europe. (Gibraltar to the Caribbean)
5. The Virgin Islands
6. Saint Martin towards Antigua
7. Antigua to Martinique
8. St Lucia to Carriacou – Grenadines
9. Grenada and Trinidad
10. Trinidad to Venezuela and ABC Islands
11. Routes back to USA
12. Route back to Europe
Biography